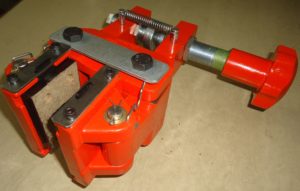 KC-H-180 – Disc Brakes
Max Braking force : 706 N
Min braking force : 671 N
Max clamping force : 883 N
Min clamping force : 839 N
Knob / lever force : 1800 N
Pad width : 46mm
Pad area : 5700 sqmm
Max allowable wear of brake pad : 5mm
Nominal Co-efficient of friction : 0.4 µ
Max Air gap : 0.5mm
Weight : 2.5kgs.
Features
Compact design.

Easy mounting.

Low maintenance

Less space consumption.

Suitable for wet, dusty and corrosion aggressive environments.

Cost effective.
Options
Organic / sintered metal brake pads
Application Area
Cable Industries.
Paper Industries.
Wire Drawing Machine.
Tyre Industries.
Textile Machineries.
Text Rigs.
Special Purpose Machines.